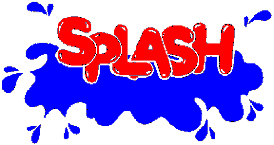 TM
Professional Aviation Paint Protection
For years people have had their cars valeted to keep them looking like they have just rolled out of the showroom. Now, thanks to Splash, your aircraft can be kept in the same "tip-top" condition.
Is your aircraft's paint faded and past its best?

- Splash will restore that "new" look for a fraction of the cost of a re-paint.

Is the interior of your aircraft looking a little jaded and shabby?

- Splash will transform it into an altogether more pleasant place to be for you and your passengers.
---
AVIATION VALETING MENU
Power Wash & Chamois
After a detailed steam clean we wash your aircraft with the finest quality bio-degradable detergents and softest brushes. After rinsing we complete the job with gentle chamois leathers - ensuring a scratch-free, streak-free finish on all windows, brightwork and painted surfaces.

Steam Cleaning a light aircraft
---
Interior
Let's face it, if all you want is a quick "vac and wipe over" you may as well do it yourself - yet with some aircraft valeting companies that's all you get. At Splash we take pride in our work - carrying out a really thorough job and paying attention to detail. We often amaze our customers at the way we transform shabby passenger compartments and grubby cockpits into "nice places to be".
---


TOUGHSEAL
Acrylic Protection with PTFE
When Splash technicians apply the TOUGHSEAL paintwork protection system with our Acrylic Plus formulation to your aircraft's paintwork, the result is a diamond hard deep shine which enhances prestige and looks great. TOUGHSEAL also protects your aircraft against such harmful elements as Oil, Exhaust Fumes, UV Rays, Acid Rain, Tree Sap, Insect Acid, Bird Droppings and Aviation Fuel Spillage.

And that's not all: TOUGHSEAL reduces the drag coefficient of your aircraft - resulting in decreased fuel burn and enhanced performance.

THE PROCESS
First we thoroughly clean your aircraft's paintwork to remove impurities from the surface. Next we apply TOUGHSEAL's unique Cleaning Agent which removes trapped sediments from the pores of the paint. Finally we apply the TOUGHSEAL protective coating.
THE BENEFITS
LASTING "SHOW ROOM" SHINE
PROTECTION FROM HARMFUL ELEMENTS
QUICK, EASY CLEANING (simply washes with water)
NO MORE WAXING
IMPROVED DRAG CO-EFFICIENT
ENHANCED PRESTIGE
INCREASED RESALE VALUE
---
For a free quotation (entirely without obligation) contact Splash today.
To ensure a speedy, accurate quotation please supply the following information:
Location of aircraft
Make, Model and Type
Length
Number of engines
Number of seats (including crew)

Type of valet required:
Exterior Power Wash
Interior only
Exterior Power Wash + Interior
Exterior Power Wash + TOUGHSEAL
Exterior Power Wash + TOUGHSEAL + Interior
---
---

Operations & Bookings +44 (0) 7831 807690
Aviation & Marine Division +44 (0)1663 750810

HOME | AIRCRAFT | MOTOR VEHICLES | MARINE CRAFT

IS0 9002 QUALITY ASSURED | TRADE | TOUGHSEAL Paint Sealants | CONTACT
---